Something that has really bugged us for a while is the lack of community pride people who live in low income housing (otherwise known as the PJs or projects) choose to treat where they live like a garbage can. Technically where we live is not part of the New York City Housing Authority, but we have all the symptoms of a NYCHA building.
Now we by no means live in the worse conditions but on the same token it isn't a doorman building on the Upper East Side. One of the biggest differences between these living situations is obviously the way the tenants behave.
In a doorman building, typically you have tenants who appreciate and realize that, although they may not own the entire property, they do live on the property. And they pay a pretty penny for their space so they treat the entire area accordingly. In lower income housing, people want to treat the property like a toilet. Why is it that some of the tenants from our apartment complex choose to use the elevators, lobby and plaza area like a trash can?  Would you want someone to walk into your house and throw garbage anywhere? Do you not take pride in where you live? Again, it isn't a horrible living situation, when you see a parent watch their kid throw candy wrappers, chicken bones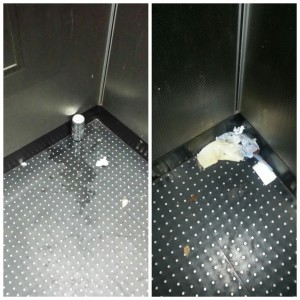 or an empty bag of chips on the elevator floor it makes you want to question the parent as to why they allow their kid to behave like a slob. If you are in the elevator you are either on your way to your apartment or on your way out of the building. Either way, hold onto your trash until you can throw it in the garbage can!
Same for the Plaza area who wants to wake up in the morning to head out and start their day and see the guts of a dutchmaster and empty beer bottles and cans, junk food wrappers, etc. thrown all over their "front yard."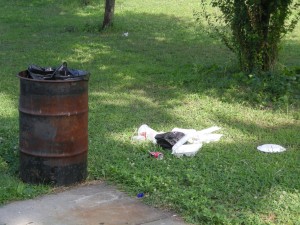 This is the same area where kids play and everyone walks through to get to and from their apartments. This is where grandparents and parents sit throughout the day for some bochinche (gossip for our non-Spanish speaking friends) and fresh air.
Not sure if some of the tenants feel disenfranchised, or if its their way of "STICKING IT TO THE MAN." The bottom line is this is where we live, why would anyone take our concerns and complaints seriously if they take one look at our space and say, "you don't care about where you live, why should we?" It's even worse in the summer!  It's a quality of life situation, if you take pride in where you live you'll feel better about yourself and it will eventually snowball in to something more.
Why do some people have a handout mentality? No one is going to take care of yours better than you!  Do we expect properties such as ours to look like the new luxury high price condos being built in the neighborhood? No, of course not. What we do expect is for our fellow tenants to have a little pride in where they lay their heads and where their kids play. What we do expect is for parents to teach their children to pick up their garbage and hold onto it until they find a garbage can to place it in the same way our parents taught us. Don't let others look at us as if we live like animals because we have no patience or pride.
[su_youtube url="http://youtu.be/mPJ79KlQfV4″]
Show a little discipline mi gente! If we instill a sense of pride in ourselves,it will trickle down to our children, and you would be amazed at the benefits of having pride in your community. So lead by example and put trash in it's place.
If any of our readers deal with this type of stuff, please feel free to comment. If you disagree, go a head and throw your thoughts up. It's all about open discussion.